Eye Exams
Comprehensive Eye Exams Conducted by Experienced Eyecare Specialists
At Medical Center Ophthalmology Associates we take pride in our complete capabilities, including our comprehensive eye exam services. During your comprehensive eye exam, one of our skilled physicians does far more than determine whether you need an eyeglass or contact lens prescription. Your MCOA doctor also checks your eyes for common diseases, assesses how your eyes work together as a team and evaluates your eyes as indicator of your overall health.
Offering eye exams for every age
Routine eye exams are important — regardless of your age or physical health. Whether you've seen an eyecare specialist before, or you're new to eye exams, it's important to have your eyes examined every one to two years, even if you aren't experiencing any symptoms of an eye problem. Our experienced team offers eyecare for all ages, including pediatric services, to ensure every eyecare need is met for you and your family.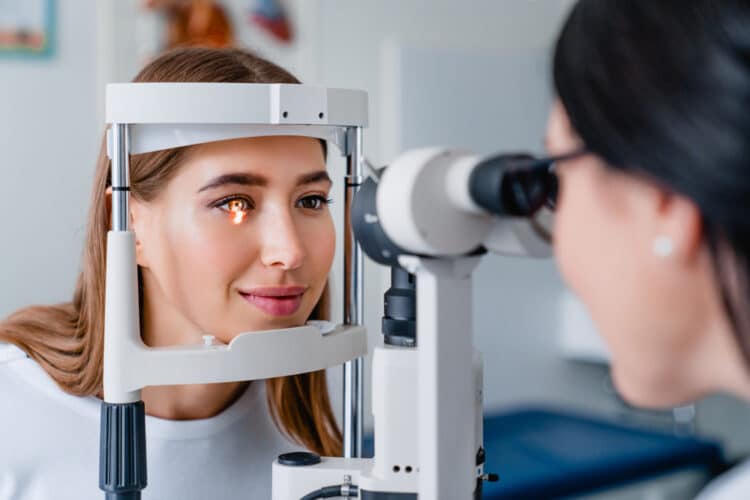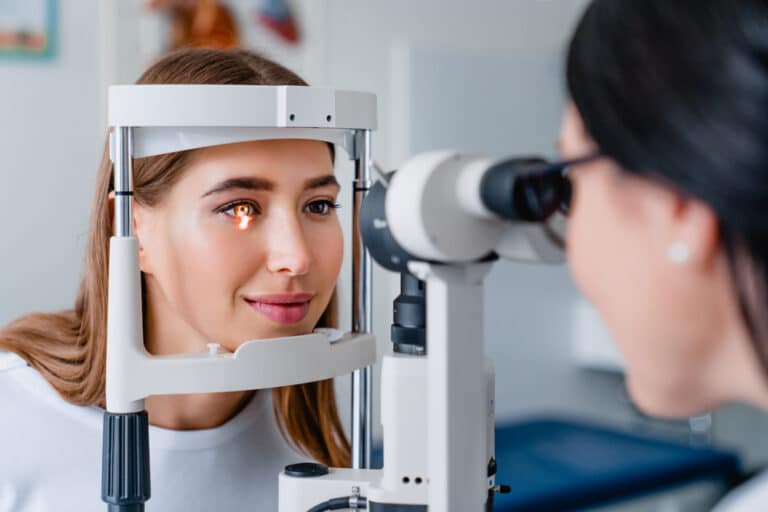 We can detect a wide variety of issues with a comprehensive eye evaluation
A thorough exam is the first step to healthier eyes. At your eye exam, you'll meet with one of our experienced eyecare specialists who will be able to detect common eye issues, such as:
Refractive error
Amblyopia
Strabismus
Eye teaming problems
Focusing problems
Eye diseases
Other diseases
Age-related conditions
If an issue with your eyes is detected, your doctor will thoroughly explain your condition and address any questions or concerns you may have. We'll also work with you to develop an individualized treatment plan that fits your needs.
Your eye exam is the first step toward healthier eyes
At your appointment, your doctor will first review your medical and vision history. Based on your history, a series of different exams may be conducted to evaluate the health of your eyes and your vision. A few common tests include:
Eye muscle movement test – evaluates the alignment of your eyes
Cover test – tests how each eye moves individually
External exam and pupillary reaction – checks your pupils' reaction to light and objects at a close distance
Visual acuity test – evaluates the sharpness of your vision by reading letters on a chart
Retinoscopy – measures the refractive error of your eyes by shining a light into the eye
Refraction testing – determines your exact lens prescription by flipping back and forth between lenses
Slit lamp (biomicroscope) – magnifies and lights up the front of the eye to detect eye diseases and disorders
Retinal examination (ophthalmoscopy) – examines the backs of your eyes using an ophthalmoscope
Glaucoma testing – tests the fluid pressure inside your eyes
Pachymetry – uses an ultrasound to measure corneal thickness
Pupil dilation (enlargement) – enlarging the pupils helps to examine the inside of your eyes
Visual field test (perimetry) – maps your visual field (the area you can see in front of you without moving your eyes)
Comprehensive, Advanced Eyecare Performed With Skill and Expertise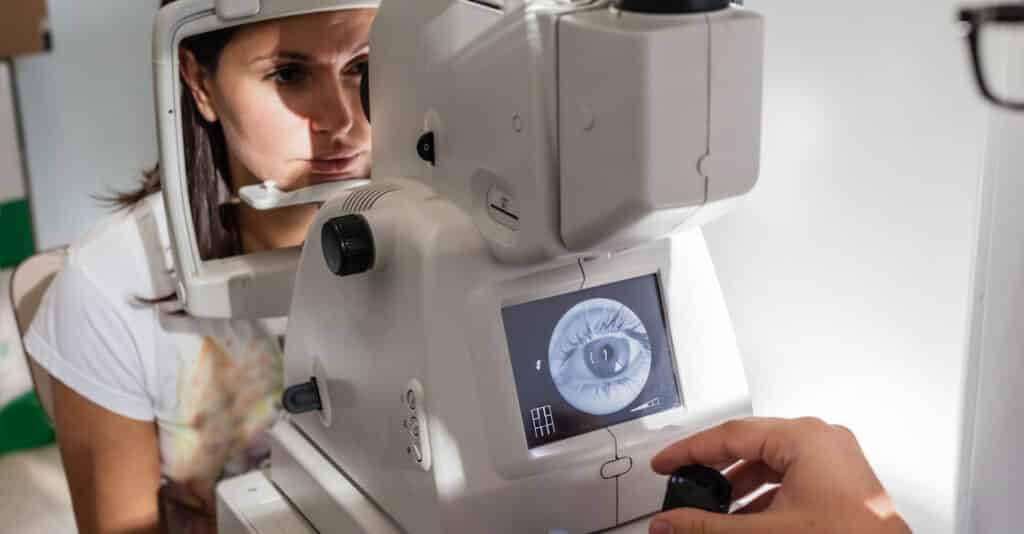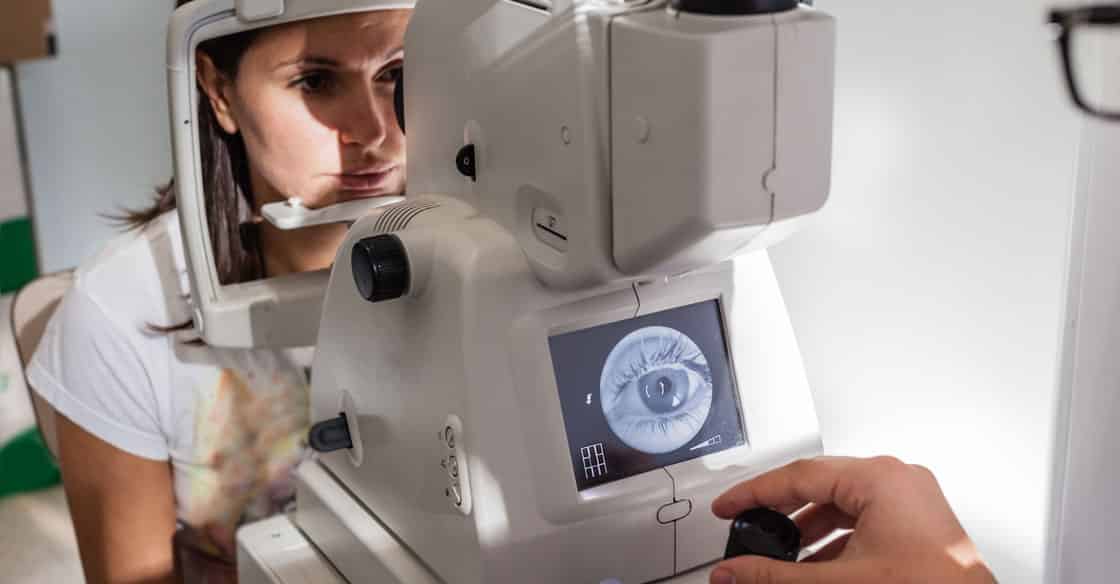 When it comes to comprehensive eyecare, MCOA offers a wide variety of the latest and most advanced services and state-of-the-art procedures for optimal eye health. Your vision is essential, but there are many different conditions that can affect the health of your eyes and your ability to see. We're committed to offering the best of modern eyecare and eye surgery.
Laser cataract surgery
We offer today's best precision for a more comfortable patient experience, optimal results and the complete range of lens options. We're also the first providers in San Antonio to improve cataract surgery using the ProKera sutureless graft.
Bladeless LASIK
To help you see your best without glasses or contacts, we perform today's state-of-the-art VISX LASIK for precise tracking of eye movement, excellent outcomes and a short, patient-friendly procedure. Not a candidate for LASIK? We bring the same expertise and commitment to other refractive surgeries, like PRK.
Dry Eye Center of Excellence
MCOA is San Antonio's only Center of Excellence for the diagnosis and treatment of dry eye. With today's most advanced methods — LipiView®, LipiFlow®, TearLab osmolarity testing and ProKera — we have new, more effective ways to free you from dryness, itching, blurriness and discomfort.
Expert corneal care, including transplant care
Your cornea, at the front of your eye, is susceptible to injury… and to conditions like corneal dystrophies, keratitis, Stevens-Johnson syndrome and more. With every modern diagnostic and treatment management protocol — including those for corneal transplant — we help you protect your eyes and eyesight.
Other medical eye services
Glaucoma, uveitis, adult strabismus or any other eye problem requires expert, experienced care. As experienced and board-certified medical eye specialists, we provide the same personal commitment and top-notch care that are the hallmarks of our reputation and track record.
Retinal care
MCOA offers some of the most advanced diagnostic and treatment technologies for expert care and management of retinal disease, retinal tears and macular degeneration. Our experienced team of eyecare professionals is committed to the best outcomes for your retinal concerns.
Pediatric eyecare
Children have eye problems too, from injury and foreign objects to developmental eye problems, strabismus, and even eye diseases. At Medical Center Ophthalmology Associates, we have the subspecialty pediatric expertise and experience to treat children appropriately, effectively and compassionately.
Complete optical services & products
While our focus is on medical and surgical eyecare, we pride ourselves on offering truly comprehensive care. This includes optometric services and optical products and services for patients who don't already have an optical provider.
---
Related Pages